Things to do in Bangkok may be perhaps few to be able to get to know the city to the full, but they can be many for those who are not ready to experience the rhythms of the capital. Bangkok is shocking, chaotic, noisy, but it is also silent, charming, elegant.
The traffic in the city is appalling, hundreds of cars are crossing great roads without caring for pedestrians. There are traffic lights, but they are not always taken into consideration. On the sides of the streets, local food stalls, tuk tuks and massage centers. Taxis are pink, yellow and green. The Thais watch you, some smile at you, many invite you to climb the tuk tuks. There are noises and smells everywhere. On the streets, fashionably dressed boys alternate with Buddhist monks.
There are so many things to do in Bangkok, but in a city like this you must not only see, you must watch, observe, savor.
Khao San Road: This area is known mainly by backpackers because here there are numerous hostels and guest houses at cheap prices, and many cafe's where you can eat something and make new friends. A fresh beer, good music and some photos of what you will really would not have liked to see immediately on the first night, the fried spiders.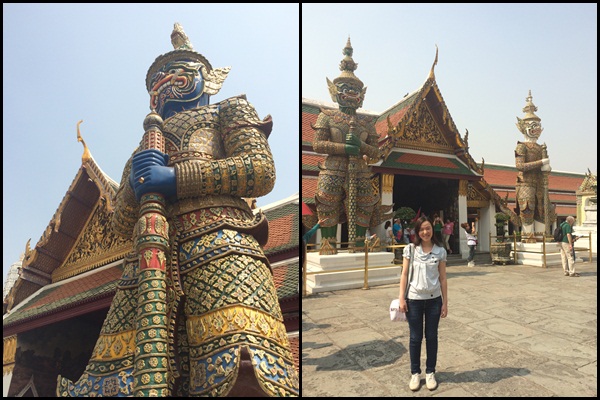 The Temples of Bangkok and the Buddha: You will never be thought that you would see so many Buddhas in a few days. The Thai capital is full of beautiful temples. Tourists of Withlocals have visited:
Wat Chana Songkhram and Wat Bowonniwet (free admission for both): Two smaller and less touristy temples, located in Khao San Road neighborhood;
Wat Saket is the Buddhist temple on top of the Golden Mount. To reach the highest point, you need to take 318 steps, (but it is not at all tiring) and here you will find many monks, many sacred Thai bells and you will enjoy a wonderful panoramic view of the city.
Wat Pho: The largest and oldest temple in the city, where the giant reclining Buddha is located, 15 meters high and 46 longs, all covered with gold.
Wat Arun Ratchavararam: This temple is located on the other side of the Chao Phraya River. The gardens around there you should visit and enjoy.
The Grand Palace: The Royal Palace
The Grand Palace is the ancient home of the royal family. It deserves to be visited to see up close all the rather particular and colorful buildings, the small temples and the golden demons, but it is a very touristic place, too much for my taste.
After the king's death, it has also become a real place of pilgrimage for all Thais who come here to pray at the tomb of the king. In fact, in the city there are many people all dressed in black, who visit the Royal Palace.
What to do in Bangkok
In Bangkok you can actually do a lot of things, but if time is not much, you have to make choices. First of all, get on the tuk tuk. It's true, it's something of a tourist, but in fact the tuk tuk is also a real means of transport that allows you to move around the city and therefore can be useful. And have fun!
Always important to negotiate and above all we must pay attention to where we are accompanied. Often tuk tuk drivers also accompany travelers in fabric stores, jewelry stores or tourist agencies to make sure something is bought, but it is much better not to be attracted by any proposal!
Boat trips on the Chao Phraya river is on of the best things to do in Bangkok. It is very pleasant; you move around the city very comfortably and you experience a "local" experience. It may seem a bit difficult to understand how to move and take the right direction, because information boards are not in English, but there is always someone ready to help you.
And then, an experience with us very beautiful, the panoramic view from the Sky Bar of the Lebua State Power. A whim that withlocals guider took off and that we recommend to everyone. Withlocals chose the Lebua, but you can choose another Sky Bar.
What deserves is the panoramic view of the city, especially at night when Bangkok does not look like it. The sounds of the city are far away, there is no confusion, there seems to be no traffic. There is only peace and tranquility, the wind in your hair, a cocktail in your hands.
This is much more in this big city that never sleeps! See you soon with new stories!