Oftentimes we are faced with the small spaces in our home that, no matter how we arrange the furniture, feel cramped and underutilized. With less space, one has to ensure that every inch of a room is being used to its fullest potential. Here is a short guide to decorating a small living room in such a way that it not only feels bigger, but gives you more space with which to work and enjoy yourself in.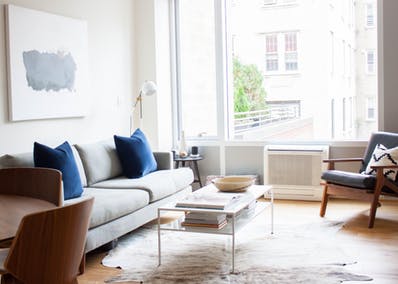 Mirrors
Decorate with mirrors. Mirrors capture and project light, which brightens the place up without adding more lamps. Mirrors also create the illusion of a larger space by visually extending your space beyond the wall, helping the room the feel less cramped or claustrophobic.
Bright Colors
Decorate with light and bright colors when choosing furniture, wall art, and paint. Dark colors can close a space in and they also absorb more light. Light is the key to creating an open feeling space. Lighter and brighter colors reflect light and open everything up. Use different shades and accent colors to create an optical illusion of a larger space.
Light
Mirrors and bright colors help use light to your advantage, but you can't make the best of either unless you first have light in your living room. Your ideal source of light should be a window. Natural light is the brightest and using it to your advantage is also cost effective. Having a window to lighten up your space also visually extends the room into the outdoors, making it feel larger.
If you don't have a window, wall lamps, hanging lights, or fairy lights to hang across the room are space efficient options to add more light to the room, and both mirrors and bright colors would reflect this light, creating a visually larger and brighter space.
Simplicity
Decorating a small space usually involves the art and science of transforming "cramped" to "cozy." The best way to do this is to keep it simple. Too many decorations on the shelves or frames on the walls can block everything in and make your small room feel cluttered. Keep your furniture and rug patterns simple or else they'll visually fill up the room.
Storage
A home is a space to keep your things, and while utilizing public storage near you can be an affordable way to store your personal items for a short period of time, you're going to ultimately want to keep things that are important to you in your home, maybe even in that small living room where you have easy access to them.
The best way to do this is to make sure everything in your space has more than one use. An ottoman is a comfy addition to a relaxing space, but an ottoman with a lift-up lid and storage access within gives you more options. Keep this in mind when choosing furniture or cabinetry.
Small spaces can feel overwhelming when you don't know how to utilize them. Most of the time people feel the need to over decorate them and don't know how to use light to their advantage. Don't let your little living room intimidate you. A little strategy goes a long way.