Spring is the perfect time to check your flat roof and clean out your downspouts. The winter months can be hard on a roof, and snow pile up on a flat roof can cause damage if not checked and prepped each spring. When checking and cleaning your downspouts, be sure to remove all leaves and debris; A flat roof can have a lot of issues that other roofs do not have, so here are three tips to ensure your roof will last for years to come.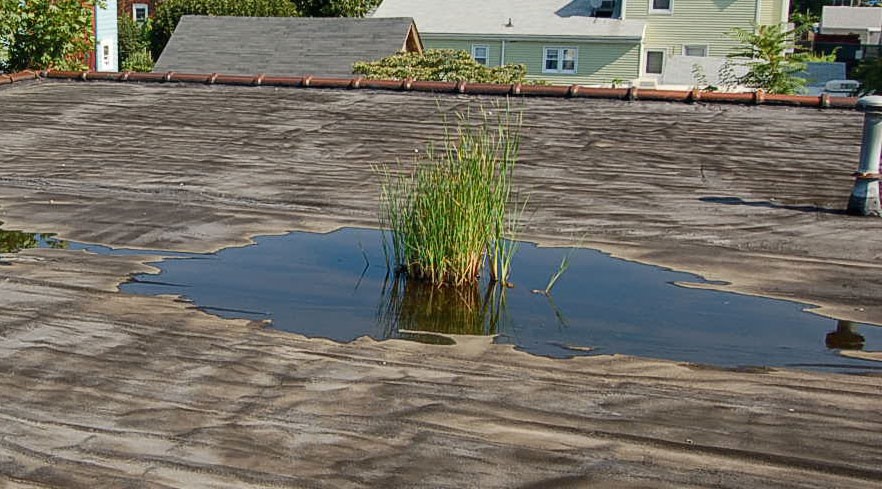 First, You will want to check your roof every spring for standing water, blistering and cracking. Pooling water is water that does not evaporate within 48 hours of drying conditions. If you do not take care of pooling water, your roof can experience degradation, from the magnified UV rays, algae or the heat. Blistering is another sign you might need to have your roof fixed: when looking at your roof, a blistering effect will look like it has sections of raised strips on the top of the surface. This happens when liquid gets trapped under sections of your roofing material and then bubbles up when it starts to dry out. Taking care of blistering quickly means less damage to the overall roof, and less material to replace later – blistering can seriously damage the materials beneath the first line of defense, which will ultimately necessitate some heavy duty repairs. Cracking is another issue to look for on your roof: a lot of cracks are caused by UV rays and could lead to serious issues with your roof later; cracked needs to be addressed quickly before it evolves into a roofing nightmare.
Second, you will want to check for anything loose, whether your roof is made of metal, rubber, alternative roofing or weatherproof membranes. Check to make sure nothing is loose, peeling, old, moldy, and that nothing needs to be replaced. Check that your roof fasteners are still tight, and anchoring your roof snugly to the house. If it's not tight, the fasteners can blow off with wind damage or allow rain in, causing huge problems later on. To avoid any tear offs, or leaks, make sure the fasteners are tight and that they are the correct fasteners for your roofing type.
The third tip to maintaining your roof is to check your gutters often, carefully and efficiently. Gutters carry the water from your roof to the ground and should prevent it from pooling at the base of your house and challenging the foundation. If your downspouts get clogged with leaves or debris, the water can slow, stop or pool up around the edge of your roof, ruining trim and potentially ruining the corners of your roof as well when water is not allowed to pass through fast enough. A simple yearly check can eliminate the debris and allow for quick, no fuss rainfall collection, avoiding build-up and sparing your roof. while cleaning the gutters, caulk any small holes you may find.
It's tough to come by reliable tips and advice to take care of your roof and home, so do your research carefully and create a yearly plan for inspecting your home and performing routine maintenance. If yourself are not prepared or equipped to perform the maintenance, there are excellent professional roofers in Toronto who can help at a fair price.