Paint and sip events have become extremely popular over the last few years. What's not to love about spending an evening with friends and learning how to paint an aesthetically pleasing work of art while indulging in your favorite adult beverage? With events popping up all around the country, just about everyone with an interest in art has attended a paint and sip night (or several of them). Paint nights have become the quintessential date night or girls' night out. They have even caught on as team-building events for businesses.
Despite their popularity, paint and sip nights aren't suitable for everyone. Lots of creative folks love the idea of having an opportunity to express themselves, but the prospect of dealing with the setup and cleanup required for a paint night is not exactly what they had in mind. Others may have already attended several paint nights and are looking for something a bit different. Whatever the case may be, here are a few creative paint and sip alternatives that just might fit the bill!
1. Diamond Painting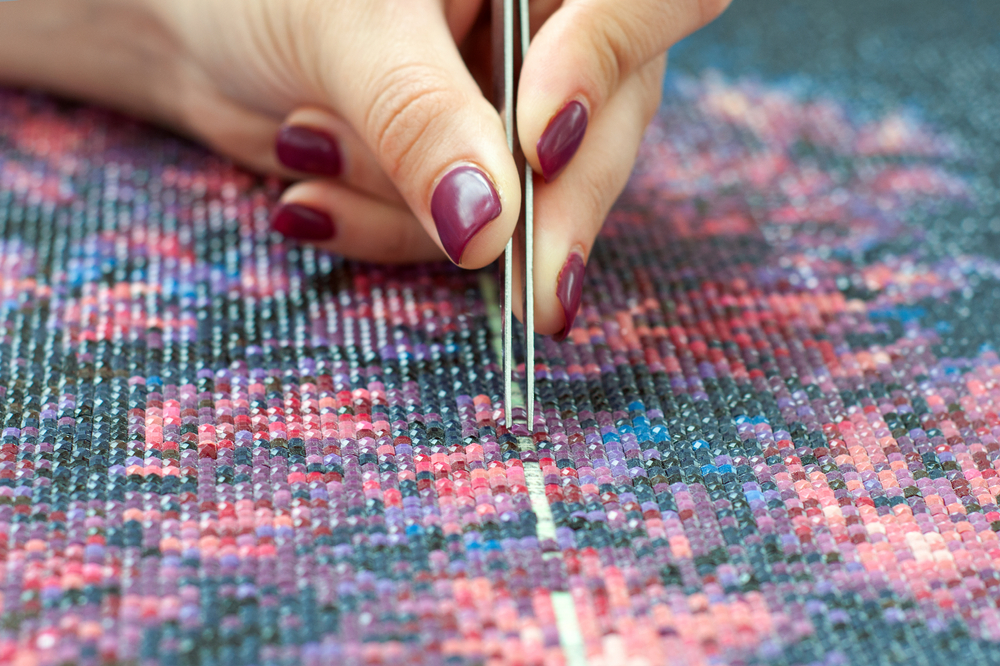 If you love painting but hate the cleanup, consider painting with diamonds instead. This activity is similar to painting by numbers, but instead of filling in spaces with paint, you fill them in with shimmering, resin "diamonds." Each color diamond corresponds with a symbol printed on a self-adhesive canvas. Match the colors with the symbols and, when finished, you'll have a sparkly mosaic masterpiece you'll be proud to display or give as a gift.
The best diamond painting kits are the ones that feature high-quality materials and come with everything needed to complete a project. Look for kits featuring canvases with poured glue and all the diamond painting accessories necessary to complete the painting. Investing in quality kits makes the task much more enjoyable and ensures your success.
Painting with diamonds is an excellent alternative to a traditional paint and sip night for a few reasons. First, it's similar, in that participants get to create a "painting" they can display on their wall. Second, it is easy enough for anyone to enjoy. Even if participants have absolutely no painting experience, they can complete a flawless diamond painting. It doesn't take any special talent and it's simple enough for people of all ages to do. And, you never have to worry about dealing with the mess of spilled paint.
Kits are widely available so you can purchase them and arrange a craft night with friends at home. Your guests can even work on different designs so everyone gets to go home with something they love.
2. Cake Decorating
When you're looking for a sweet activity that allows you to express your creativity, consider a cake decorating class. Whether you attend an in-person event or gather up your friends and participate in an online course, cake decorating is an excellent option for crafty food lovers.
Attending a cake decorating class is a fun way to get your creative juices flowing and learn a new skill. And, in most cases, you'll end the night with a delicious treat — even if it doesn't turn out quite as perfect as you hoped. You may even discover that you have a natural talent for decorating baked goods and end up becoming your family's go-to decorator for birthday cakes.
3. Beer Making
If the "sip" is your favorite part of a paint and sip night, you might want to sign up for a beer-making class. With craft breweries popping up in communities across the country, there are plenty of places where you can learn the art of brewing beer from scratch. Once you have mastered the basics, you can add all sorts of creative touches to your brews. It's a less traditional way to express your creative side, but it's certainly a lot of fun!
This activity is equally enjoyable for men and women. Instead of dragging your boyfriend or husband to another paint and sip night, plan to attend a beer-making class. Chances are, he'll be just as eager to go as you are!
4. Sushi Making
Like cake decorating, learning how to make sushi is both fun and delicious. If you live near a bigger city, you should have no trouble finding sushi making nights near you. Learning how to make sushi is easier than you might think, and you might pick up some new knife skills to impress dinner party friends. Even if your rolls don't turn out perfect, you'll get to sample some of your favorite, taste bud-tantalizing flavors.
5. Glass Blowing
If there is a glass blowing studio in your area, find out if they host classes. Many have regular events or book private parties during which guests can learn the basics of making small glass items like beads or ornaments. Manipulating hot glass is a one-of-a-kind experience that any serious crafter or hobbyist will relish — and it's a lot more thrilling than painting!
6. Jewelry Making
Whether you attend a local jewelry-making class with friends or get out your supplies and host an event at your house, this activity is a great alternative to painting. People of all ages and skill levels can participate in making jewelry. And, with a bit of creativity, anyone can make something they will be proud to wear and show off.
Unlike some of the other ideas, jewelry making is easily adaptable for any occasion. It's the perfect ladies' night activity, but it's also fun for date nights. All you need to do is switch up the project to suit the nature of the event.
Conclusion
When you want to enjoy a creative evening but don't want to deal with the messy cleanup involved with painting, try one of the activities listed above. These options are also great for anyone who is looking for a new and unique way to express themself. Whether you attend an in-person or online event, or plan your own arts and crafts night at home, the important thing to remember is, it's all about having fun!