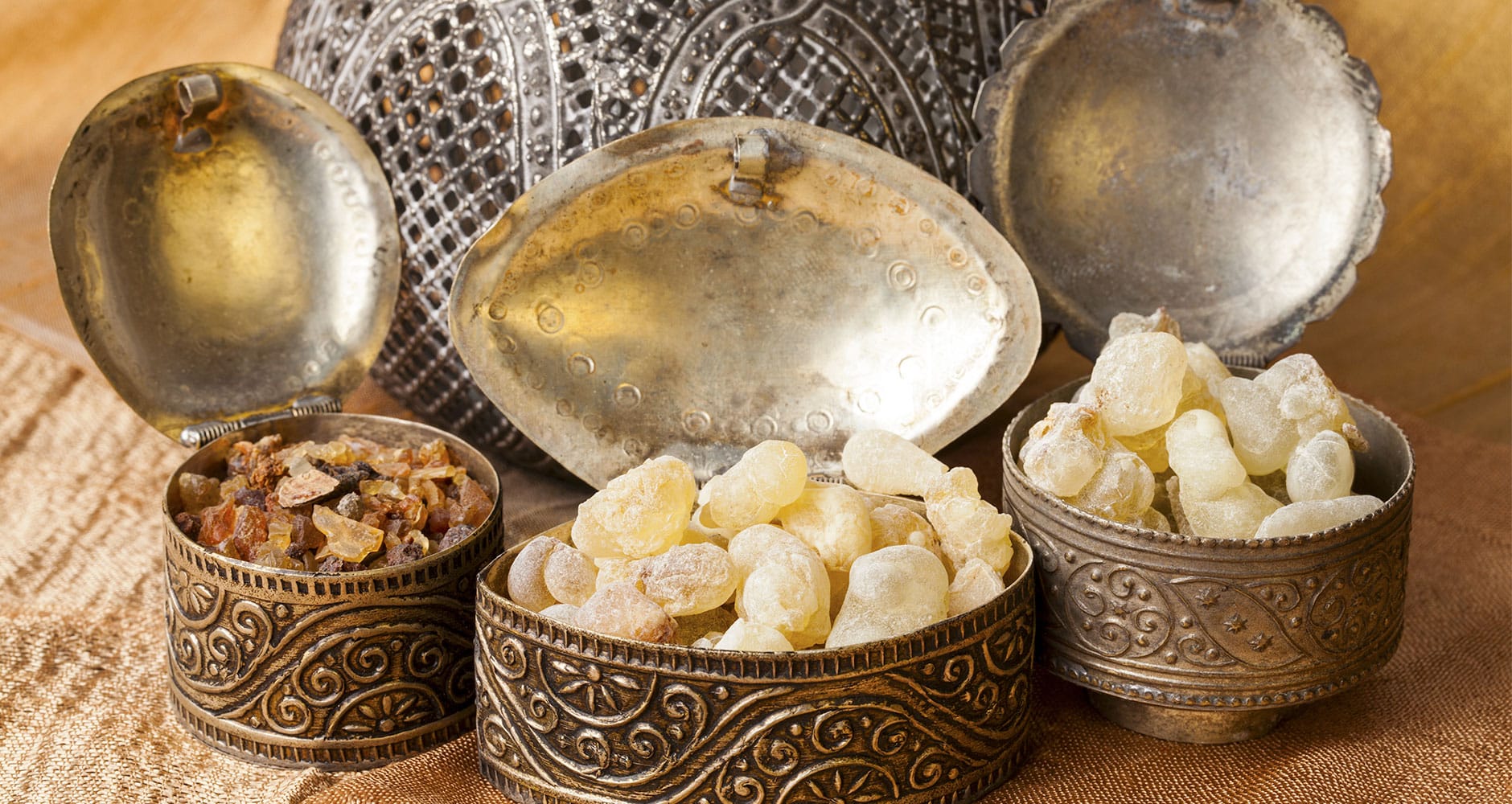 As we're very much in the full swing of advent and the tradition of buying presents for our loved ones is in full flow, it's a time of year at which many of us cast our minds back to the original Christmas story, as we recall the original gift bearers of old.
One of the first things we were taught at our infant school Nativity plays was that three wise men from the East brought gifts of gold, frankincense, and myrrh to mark the birth of baby Jesus. While people today still appreciate the value of gold as a gift, frankincense and myrrh have somewhat fallen by the wayside and are very much consigned to the history books.
Yet, in the world of aromatherapy, frankincense and myrrh still have a big part to play. This is because these oils of antiquity still hold many of the qualities befitting royalty. For this reason, they are super popular within aromatherapy products, skincare, and fragrance products, as we explore in more detail below.
Frankincense 
Deriving from the term "fran encens," frankincense means quality incense in ancient French. The earliest uses of frankincense can be traced back to the Middle East and Africa, and it is known as an oleo-resin – a type of pale gum that is produced by the bark of the Boswellia shrub.
The resin is taken and ground to a powder, which then harbours a delicious balsamic and sweet aroma that becomes a vital ingredient in incense. To produce the essential oil, frankincense resin is steam distilled and produces an even sweeter and fresher scent than the resin itself.
In days gone by, frankincense was regarded as a bridge between the earth and divinity, and today in aromatherapy, it is widely used for its relaxing properties that often bring a sense of inner peace and calmness to the present situation.
Myrrh 
Because of the popularity of frankincense in skin care, wellbeing, and fragrance products, a lot less is known about myrrh, its humble yet equally impactful sidekick. But only a fool would write of myrrh as less beneficial than frankincense.
In fact, as an essential oil, myrrh has a broad and fascinating history. There is a reference to myrrh – a somewhat insignificant-looking shrub – in various historical records, dating back more than four thousand years. Myrrh was extremely popular during the prominence of Ancient Egypt, and it was typically used as an expensive spice that had both cosmetic and medicinal benefits. In Egypt, it was used simultaneously as a skincare treatment and to assist with the embalming of mummies.
The Ancient Greeks were also fond of myrrh's healing and cooling properties, opting to use it predominantly in fragrances while also using it to prevent infection and reduce inflammation.
Fast forward to the present day, the bark of the myrrh shrub (Commiphora myrrha) is pierced, and a fragrant gum seeps from its branches, which is the foundation of the process that creates the essential oil. As with frankincense, the gum is then steam distilled to create a supremely versatile and beneficial oil.
Today, in aromatherapy circles, myrrh is used to treat a range of emotional and physical ailments. For instance, when applied within a compress, the oil assists in drawing out infection from a wound. What's more, myrrh can be blended with frankincense or floral oils in a diffuser, which calms the mind, spirit, and soul, and helps to dampen negative feelings and emotions.
In spite of the abundance of luxuries available in the present day, it's evident that the three wise men knew how to select the perfect Christmas gift thousands of years ago. Fortunately, you don't need the intuition of a wise man to utilise the benefits of frankincense and myrrh, and you needn't even wait until Christmas! These ancient oils can be used at all times of the year and will help calm your mind, body, and spirit.