​It's 2 a.m. and you're still awake poring over magazines and blogs trying to choose the perfect bridesmaid dress. Yes, wedding planning is a ton of work, but don't lose sight of the real purpose.
At its heart, your wedding should be all about celebrating you as a couple. Taking every opportunity to personalize your day will make it so much more charming than the cookie-cutter variety. Here are five ways to charm the bow tie off your DIY wedding: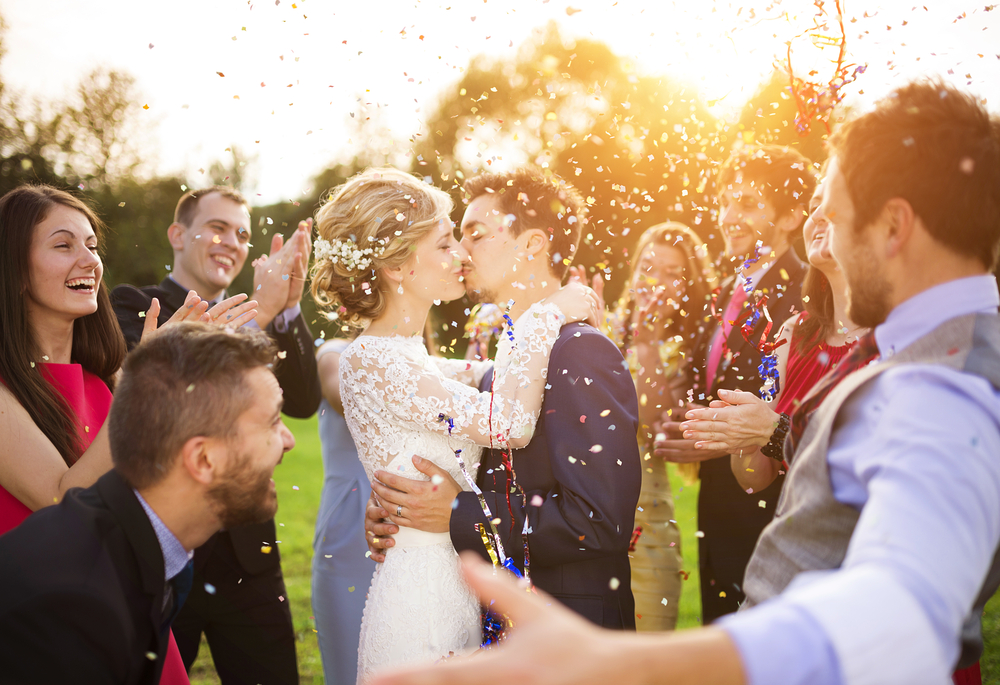 1. Add Custom Details to Your Invites
Who doesn't love a personalized invitation? Indeed, everyone loves seeing their name in print. With that in mind, create your own wedding invite or save-the-date card with a stylish touch by adding a custom stamp or addresses in calligraphy.
And don't stop there. Keep the creativity flowing by putting your own spin on traditional wording. Instead of using the standard "Mr. and Mrs. Parents request the honor of your presence," opt for wording that reflects your personal style. For example, "Celebrate with us!" or simply "Please join us for the wedding of…"
2. Create a Perfect Photo Op with Memorable Accessories
To commemorate your wedding, create beautiful, personalized hangers with your names and the names of those in your bridal party engraved in the wood. Or, create tags with people's names written in calligraphy and then attach them to the hangers.
For a surprising (and environmentally sustainable) twist on boutonnieres, flower arrangements or bouquets, create faux paper or fabric flowers. With a little extra effort, your creation can be just as beautiful as the real thing. Plus, you can keep them or give them away as favors or gifts to your bridal party.
3. Use So, So, So Many Photos
There's often not a more lovely sight at a wedding than seeing smiling photos of the happy couple. Clip Polaroids to LED string lights to create a romantic atmosphere as guests enter the venue. Or, have some of your engagement or childhood photos framed and displayed on reception tables and the buffet line.
To give guests a feeling of inclusion and a festive atmosphere, create a cute photo backdrop or frame for Instagram-worthy selfies. You can also encourage guests to send you photos at a later time so you can share them on your wedding website or thank you notes.
4. Give Personalized Favors
A perfect way to personalize your wedding is to make your guests feel special with a meaningful keepsake. With that in mind, consider giving elegant chocolates, coasters, or scented soaps customized with your names, wedding date, and a special message as a party favor.
For dual-purpose favors, decorate reception tables with adorable tea tins, votives or succulents and have each guest's name printed on it. Or, use one of your hobbies to inspire a personal gift. If you and your significant other love to travel, gift your guests with personalized luggage tags. Then again, if you're into all things wine, opt for monogrammed bottle openers or stoppers.
5. Sprinkle in Some Memories
Throughout the day, sprinkle in some special memories from your time as a couple (or even childhood) that will help guests feel included in your life. Incorporate hobbies you enjoy in the decor — bicycles, books, etc. — and find a way to weave them into your vows, toasts or the officiant's speech.
Know That Today is All About You
By using every opportunity to create an authentic, personal moment, your wedding will be extra magical. Consider personalizing your invites and accessories, using photos as a main decorating element, gifting custom favors, and incorporating your favorite memories as a couple in the ceremony. Remember, for one day only, it's all about you!