7 Tips For Designing the Perfect Dining Room Layout
Having an appealing dining room can make meal time more enjoyable. Choosing the right dining room layout is easy when following the tips in this article.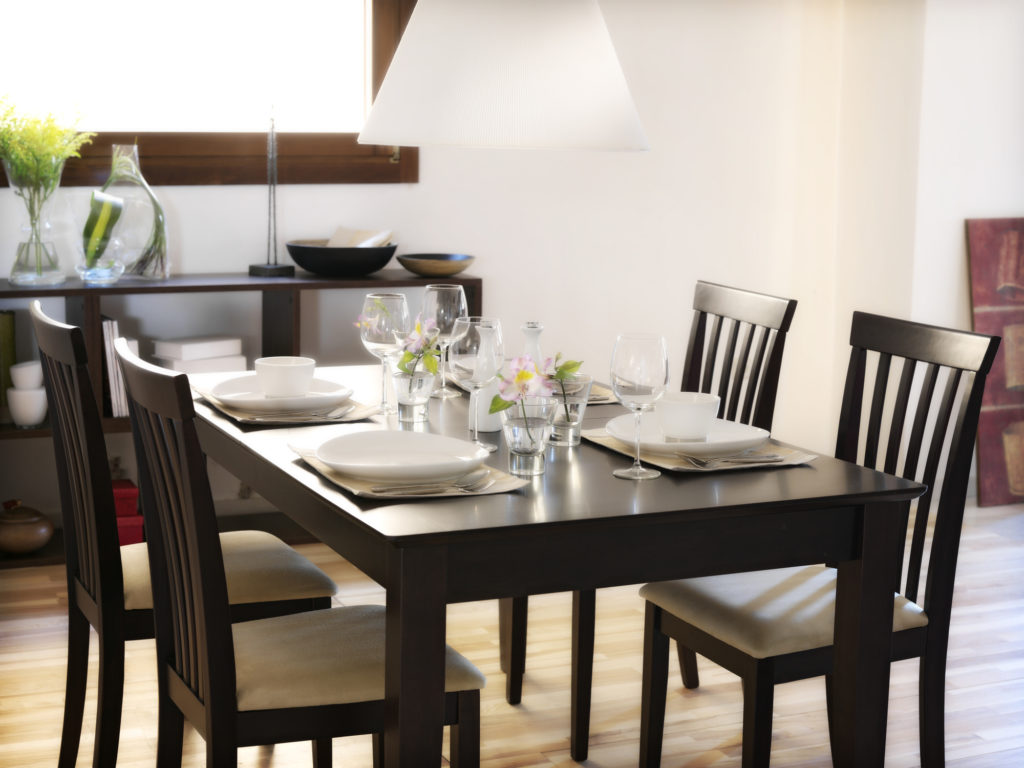 If there's a room in your house to impress guests with and pull out all the stops, it's your dining room.
This is your opportunity to go all out with your style; think luxury, chicness, and trends. You could invest in designing any room in your house, but the ones you entertain in are most important.
There are some basic guidelines when it comes to the dining room layout. Keep reading to find out how to follow them and take your space to the next level.
1. Table Shape, Size, & Placement
The style of table you choose depends on the format of your room. You want it to be big enough to fill the room, but not so big it's dysfunctional.
Generally, if you have a long and narrow dining room, the table should also be long and narrow.
If your dining room is square shaped, you should do a roundtable or a short rectangle shaped one.
Choose which shape of the table is right for your size of the room. Then, consider how many people you want to serve on it. Most tables seat anywhere from 6-12 people, some even more!
If you have space, it's recommended to choose the largest table you can comfortably fit. Designers will usually place the table symmetrically in the center of the room.
You can buy your furniture from a local department store or search online for vintage pieces that add a "one of a kind" element to your room.
2. Seating is Key
You want your guests to be wowed by your space but also comfortable. There's nothing worse than a gorgeous chair set that no one wants to sit on!
Choose seats that are comfortable, but also compliment the theme of your room.
Pantone recently released the color of 2018 — ultraviolet — and it's the perfect statement color for dining room chairs. Purchase chairs with velvet upholstery and your design could be straight out of a magazine.
Some popular dining room designs have chosen a mismatch of chair styles to give a whimsical and eclectic feel. If that's not your vibe, consider choosing a separate style for the end chairs only.
And, it's crucial that you don't purchase chairs that are too big. Giving your guests' ample elbow room will impact their experience greatly.
3. Make a Statement with Lighting
The days of dusty chandeliers on a golden chain are long gone. Today, there are so many gorgeous lighting options to choose from.
While you could do home renovations to increase natural light, choosing a new lighting piece is more cost-effective and less permanent.
Statement lighting can come in all types of forms. From gothic chandeliers to modern sphere bulbs to customized abstract art lighting.
The way you choose to light the space will affect the feel of the room. Designers usually opt for a warm or neutral bulb rather than a bright white one.
4. Use Art to Enhance Sophistication
High-end designer showrooms rarely include picture frames or personal memorabilia in dining rooms. This isn't a coincidence; the dining room is a place that's meant to make all guests feel welcome and not like they're intruding.
Rather than having family portraits on the wall, consider hanging art.
This is an affordable way to change up the trends in the room. Home decor stores often have premade art canvases that are relatively cheap. Switch them in and out when you need a change.
You could also have a piece of art commissioned by an artist. While it's costlier, you are more likely to get the exact style of art you want.
Mirrors are also a great wall decor option because they make the room look bigger and add a touch of glam to any space.
5. Every Room Needs Storage
What's the point of purchasing gorgeous new dinnerware if you have nowhere to store it?
When you start investing in nicer plates, glasses, and cutlery for special occasions, they need a storage space that will prevent damage. For most, that's a china cabinet or a buffet.
There are some beautiful buffet cabinets in the mid-century modern style that would look perfect in any contemporary dining room. Look online (www.eroomservice.com) for some truly unique pieces.
If your space isn't large enough for a storage unit, consider placing a small bar cart in the corner of the room. It could at the very least hold fancier drink glasses and showcase any interesting bottles.
6. To Rug, or Not to Rug
Historically, dining rooms included rugs because they created warmth for the feet and added a sense of luxury that peasants couldn't afford. These days, dining rooms can look great with or without them.
One benefit of having a rug today is that it protects the floor from scuff marks from the chairs and people's shoes. It also acts as a design feature you can change up with your style.
Ensure the rug you choose is large enough that all chairs can be pulled out within its borders.
Choose a synthetic material rug for easy cleaning and stain resistance. Don't be afraid to purchase additional stain protectant spray to keep your rug in good condition.
7. Accessorize with Trends
The truly fun part of designing your dining room is choosing the accessories.
You can change them up based on the season, the occasion, or the current trends. And, they don't have to break the bank. There are tons of home decor stores with awesome clearance sections if you're looking for a deal.
Here are some accessories you can change up whenever you like:
Dinnerware

Table Runners

Centerpieces

Napkins
Some of the chicest dining rooms keep the walls and bases neutral and then add colors and patterns in the accessories.
Ready to Design Your Dining Room Layout?
You don't have to be a professional designer to have a perfect dining room layout.
Simply follow the guidelines above and incorporate your unique style. Sometimes the most beautiful rooms are the ones that make us the proudest because we designed them ourselves.
For more design tips, home decor guides, and other lifestyle hacks check out my blog.