Do you know what the ultimate restaurant bar stool looks like? Read our guide here for everything you should know when buying the perfect stool for you!
A bar is a great and often much-needed addition to a restaurant. It provides not just a place for drinks to be prepared, but a secondary place for customers to sit and enjoy the experience you have created. Selecting the right bar stool is one of the most important decisions you make when setting up this area. Luckily for you, there are a plethora of restaurant bar stools for sale online to help you work out which one you would like as well as this handy guide to tell you everything you need to look for.
Size Matters
Bars come in all different heights and sizes and so do bar stools. With the average bar measuring about 40 to 42 inches in height, you want to find stools at about 28 to 30 inches in height to make sure there is enough room for the customers to fit comfortably beneath the bar. This rule of thumb of having at least 10 to 12 inches of space works across many different heights. If your bar is at a custom or unusual height, or even if you would just prefer them, look into bar stools with adjustable heights.
Don't Pack Them In
In addition to the height of the bar stool, you also need to consider how much space each customer will have while sitting there. The general rule of thumb is that there should be at least 28 inches between the middle of one bar stool and the middle of its neighbor. This measurement may change depending on whether your bar stools have arms or not. To get a rough estimate of how many stools you can fit in front of your bar, take the length of space allocated to seating and divide it by 28.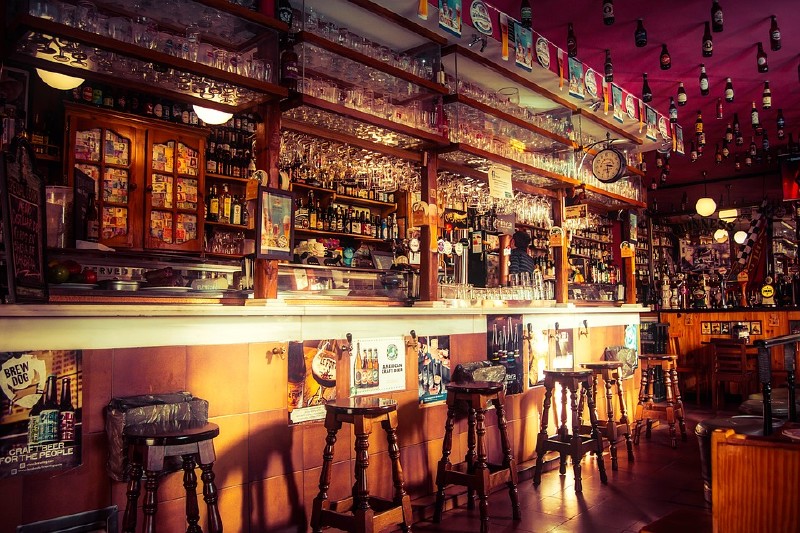 Choose the Right Material for You
You also want your stool to look amazing and fit in with the rest of your restaurant's aesthetic. Many restaurants are now aiming for thorough and cohesive themes perfect for posting to Instagram or other social media. A more modern restaurant may choose to have chairs and bar stools made of metal whereas a more classic venue may go for a rich dark wood.
This is also about more than aesthetic choices. You need to pick a material that is going to last well among the hustle and bustle of your restaurant. The ideal material will be easy and quick to clean so you can keep on top of any spillages and mess when and where they occur. If you wish to use a textile, maybe consider seeing if the textile that you used for the rest of your chairs or booths is also available for your bar stools. A restaurant of entirely coordinated seating can look just as chic as a cozy mismatched place.
With these tips in hand, you are bound to be able to find the perfect bar stool for your restaurant. Creating your ideal space is an extremely rewarding experience and you are now one step closer to bringing your dreams to fruition.