Are you traveling to Japan soon? There are some unique and tasty foods there you have to try. Read on to learn about the best Japanese foods.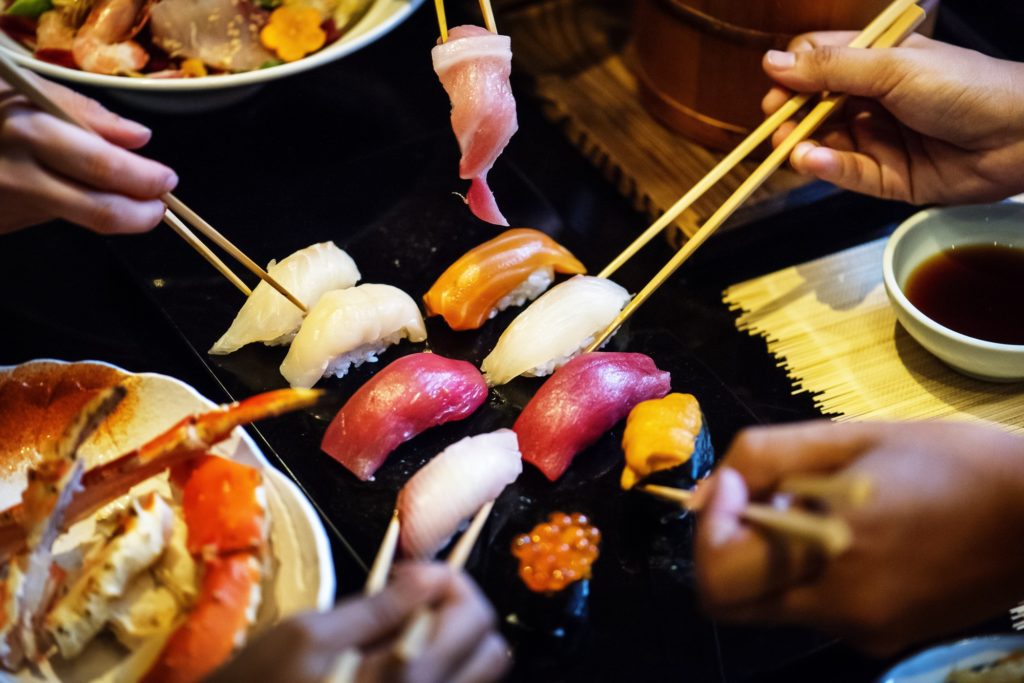 In 2018, the Narisawa restaurant in Tokyo, Japan was voted one of the world's 50 best restaurants in the world. Chef Yoshihiro Narisawa features Satoyama cuisine. One dish includes a soup made from the broth of a poisonous snake.
Stomach not quite that adventurous? Not to worry. While in Japan, you will have countless opportunities to experience the local Japanese cuisine.
Traditional Japanese dishes differ from region to region so that you can enjoy the same dishes over again. Let's explore some of the best Japanese foods to sample while you are in this amazing country.
1. Sushi
When you think of Japan's food, you can't help but think of sushi. Sushi is a dish that combines vinegar, rice, and seafood. Other ingredients are often included as well.
Nare-zushi is a type of fermented sushi that is worth your try. However, the more common varieties of sushi are nigiri sushi and temaki sushi. To understand the difference between sushi, nigiri sushi, and sashimi, read this article.
If you don't care for raw fish, there are other ingredient combination available. A couple of those are grilled conger eel and boiled prawns. You can find sushi throughout Japan.
Though, sushi from high-class areas like Ginza or near fishing ports is the best and worth the extra yen. If you want to stick to less expensive options, visit a kaitenzushi, which is a conveyor belt sushi restaurant. You can enjoy sushi for about 100 yen a meal.
2. Tempura
Tempura dishes are battered and deep-fried foods that can be either seafood or vegetables, or both. Tempura comes from the Portuguese and arrived in Japan during the 18th century.
The seafood and vegetables are dipped in flour and egg batter and then fried in oil. Tempura usually comes with a bowl of rice or is served on top of it. Be sure to dip it in the sauce that accompanies it to enhance the taste.
Tempura is widely available in Japan. The best place to experience it is a specialty tempura restaurant. Your dish is brought to your table as soon as it's ready, no matter how large or small the order. Be sure to eat it while it's still crispy.
3. Sukiyaki
Sukiyaki is a meat and vegetable stew. The ingredients are stewed in an iron pot. The sauce is called warishita, and it is made from sugar and soy sauce. The ingredients vary according to the region.
In some areas of Japan, people mix a beaten egg into the sauce for a mild flavor.
4. Ramen
Ramen is a favorite noodle soup dish in Japan. The original recipe contained chicken bones. More modern versions feature beef, pork, and seafood, which creates a range of tastes.
Other flavors are added using salt, miso, and soy sauce. Though, there are different varieties like curry-flavored ramen. There is a type of ramen called tsukemen. The noodles and the soup come to the table separately.
The Hokkaido style ramen has a miso-based broth. Okinawan style features a seafood-based broth. The most famous ramen is the Hakata style. It has a rich tonkotsu broth.
5. Curry Rice
Curry has its origins in India. Though, the curry in Japan is a unique, local dish that is based on the curry from the United Kingdom and brought over to Japan.
It is made with meat and vegetables like carrots, onions, potatoes, a perfect Japanese dinner.
It's stewed together with curry powder and served over rice. This often comes with fried pork cutlets or other fried foods.
6. Tonkatsu
Tonkatsu is based on western pork cutlets. Cooks dip a thick slice of pork in flour and beaten egg batter. They coat it in breadcrumbs and fry in oil.
You will find both sirloin and fillet tonkatsu. However, the fillet tonkatsu will be more expensive.
This dish is tasty no matter where you enjoy it, although restaurants will provide the best experience.
7. Soba
Soba is buckwheat flour. The soba dish is made from soba noodle with a sugar sauce and a soy sauce. It comes with toppings like tempura, egg, or other options.
You can buy great the noodles from a soba noodle shop, but they will be expensive. You may fare better trying soba at a standing restaurant.
The different toppings will be featured outside the restaurant. So, it's easy to decide what you'd like to order.
8. Udon
Udon is similar to soba, though the noodles, in this case, are made with kneaded wheat flour.
Like ramen, they are served with a sugar and soy sauce. Though, udon noodles are thicker. Udon is also served with clear shoyu-based soup.
Udon is inexpensive and available at the many standing soba restaurants you will encounter in Japan. Though, note that the firmness of the noodles, which is known as koshi, is a crucial part of the dish.
If possible, eat it as a specialty udon restaurant. A variant is a noodle stew called nabe yaki udon.
9. Karaage
Karaage is a chicken dish seasoned with soy sauce, salt, and several other spices. It is sprinkled with starch and fried. You could say it's Japanese fried chicken, though the flavor is much different.
There several local variations of the dish. There's chicken nanban in Miyazaki. The karaage are covered with tartare sauce. For the tebasaki in Nagoya, the sauce is sweet and spicy.
10. Yakitori
Yakitori is skewered chicken seasoned with a soy sauce-based or sweet salt sauce. It is barbecued. You can find yakitori at Japanese bars and restaurants called izakaya.
Though, as always, trying it at a specialty yakitori restaurant is best. The prices in both are reasonable unless you go to a high-class restaurant. You can also try skewered pork, called yakiton, which excellent as well.
The Best Japanese Foods Await
Japan is known as "a culinary wonderland" because of the county's cultural emphasis on its cuisine. Japanese foods are prepared fresh and with meticulous attention.
This article presented just a few of the best Japanese foods. So, enjoy the extraordinary cultural sites like the Tokugawa Art Museum. Just build in some time to explore the surrounding restaurants as well.
If you have any questions about traveling in Japan, please contact me.