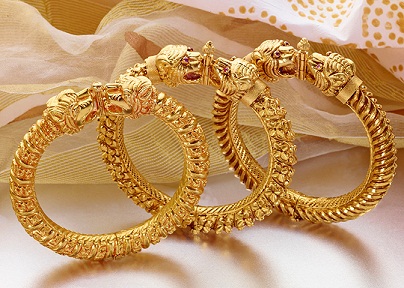 A woman's wardrobe is incomplete without a large collection of accessories to complement her clothes. Accessories are key to trendy fashion and bangles are an essential part of it. Easily worn and super comfortable, bangles are available in a vast variety of designs and styles ranging from traditional to modern and can be found in various metals and materials. Wearing even the simplest designs can elevate your look by a whole lot. Therefore, here is a guide to 5 new style bangles that you must add to your collection to look your best.
5 New Style Bangles You Must Have
Cartwheel Bangles – Usually worn as a single bangle in gold rather than in stacks, cartwheel bangles are minimalist and modern and the perfect daily wear or formal wear accessory out there. They come in sleek designs and also are often decorated with pretty stones of varied colours that can be matched with your outfits. It is very light weight and comfortable and the delicate look of the bangle looks very classy.
White or Rose Gold Bangles – The trendiest metals in the market right now, nothing is more fashionable than a pair of really classy white or rose gold bangles. The colours add a touch of glam and class to your outfit because of the cool colours and work very well with neutral coloured outfits. They can be easily paired with formal wear and even casual outfits. These bangles are also very light and thin and thus can be worn throughout the day without any discomfort.
Zirconia Crystal Bangle – If you are looking for attractive statement pieces, opt for a zirconia crystal bangle which is the perfect choice for parties and evening wear. They tend to be chunky but look very sophisticated despite the weight. You can pair it with a few sleek stone bangles for a dressier look. It can be worn with ethnic as well as western outfits. The clear white colour of the stone attracts a lot of attention and sparkles when it catches light. It is the ultimate piece of accessory you will need if you are dressing up for a party.
Floral Bangle – The classic gold and diamond bangles with intricate floral designs are a must in every woman's collection. It is the right mix of traditional and modern and thus works very well with almost all kinds of outfits. These bangles often come with stones of different colours which make it look even prettier and you can thus colour coordinate with your outfits. This design suits women of all age groups.
Antique Designs – Antique designs are making a comeback in the fashion market and for all the right reasons. The classic traditional look adds sophistication and an old world charm to your look which will surely garner a lot of attention.
These are the 5 most unique and stylish bangle designs that you must have in your collection to make the right fashion choices every time. You can never go wrong with these designs. Happy shopping!