What if your big wedding plans are already "so yesterday?"
Everyone knows that wedding trends change over time. In order to have an awesome and impressive ceremony, you need to know what is hot and trending right now.
Not up to date on the hottest wedding news? Don't worry: we've prepared a comprehensive guide that is good in both sickness and health to kick off 2019 in matrimonial style.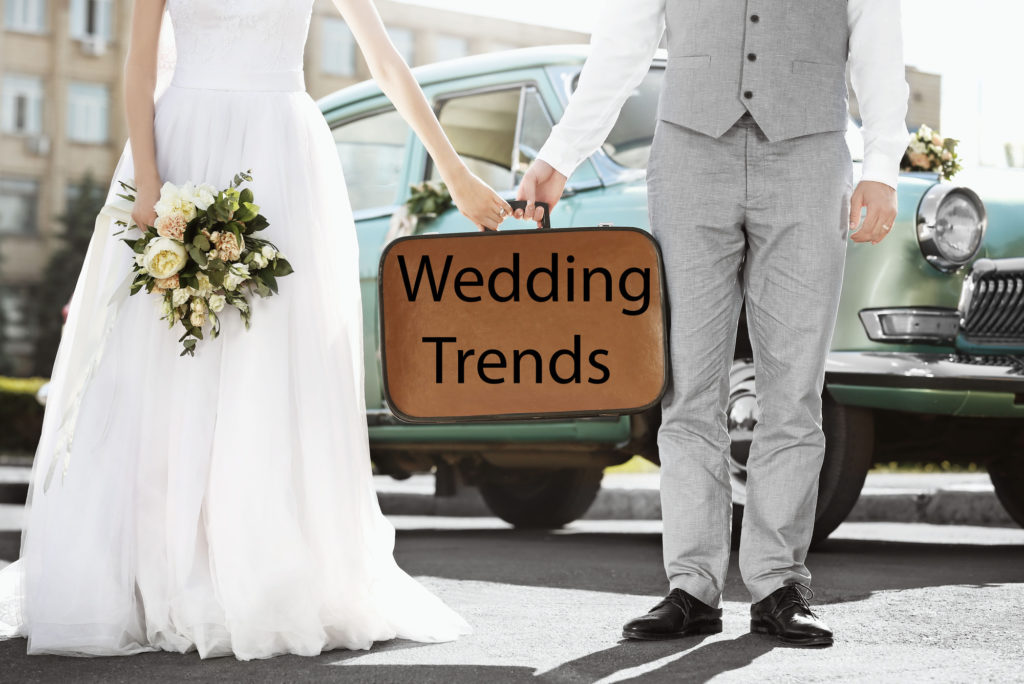 Why Worry About Trends?
We've prepared a really solid guide to seven of the hottest wedding trends that should be on your radar. However, it's fair to ask: Why worry about wedding trends at all?
For your parents and earlier generations, wedding photos basically existed in a handful of frames in the house and a box under the bed. In other words, no one really saw them or paid too much attention to them.
Now, though, is the age of social media. And pictures from major events such as your wedding are going to live forever online, especially on platforms such as Instagram.
This means that more people see more wedding photos than ever before. They can tell what has been trending in certain years, and if you're not careful, your own wedding may look past its own "fresh by" date.
However, with our guide to the seven hottest wedding trends, you won't just have a happily ever after. Instead, you'll have a #HappilyEverAfter that's likely to go viral!
1. Wooden Rings
Some of the trends on this list are big and splashy. These are the trends that focus on things like the ceremony and the decor.
One much simpler trend is really taking off, though. What's that trend? Wooden wedding rings!
Companies such as Lux Woods make awesome wedding bands that combine precious metals and wood. The final look is unforgettable: a perfect blend of natural beauty and organic harmony.
Plus, while this trend is taking off, it's still pretty rare to see a wooden band on someone's finger. This small addition to your ceremony will help you stand out as a couple for years to come as you write your own rules.
2. Purple Reign
Once upon a time, weddings were very "black and white." Brides in white, grooms in black, and decorations that more or less matched.
However, color is taking off in a big way with everything from bridal dresses to floral arrangements. And the season's hottest color is purple.
The color really pops out with any photographs you take. Therefore, using a bold color like purple makes all of your photos "Instagram ready."
Purple not your color? You can get a similar effect by embracing other vivid colors such as red or even baby blue.
3. Wrapped in a Bow
Of all the wedding trends, it's the dress trends that are the hardest to keep up with. This is because the trends are usually dictated by whatever celebrity tastemakers have gotten married earlier that year.
One of our favorite bridal dress trends is the statement bow. These are oversized bows that flow seamlessly into the train of the dress.
A bow brings a nice air of whimsy to the kind of ceremony that can easily be stale and boring. And they can even be empowering on a stressful day: what bride doesn't want to feel like they are a gift given to the world?
4. Video Mapping
Some of the trends on this list are timeless. The next one, though, is all about embracing the future.
The goal of really ambitious wedding designer is to make a room look like an entirely different space. And with video mapping technology, you can make this dream into a reality.
This technology uses projects and sometimes sound to give a room an entirely new look. And because all of the designs are digital, couples have a wide variety of themes, colors, and designs to choose from.
Overall, this trend is more high-tech (and more expensive) than most other ideas. But it's definitely one your guests will never forget!
5. The Welcome Box
The key to a really great wedding is actually nice and simple. All you have to do is make each guest feel truly special and welcome!
That may sound like it's easier said than done. However, a really well-done welcome box can certainly do the trick.
In terms of content, these boxes usually have things like wine, candles, and flowers. Along with that, though, there should be personalized notes and useful info about the wedding.
Ultimately, this makes guests feel special because it shows you took the time to personalize each box. In an age of mass-produced items, this is one of the latest wedding trends that really stands out.
6. Custom Monograms
Like it or not, 2019 will be all about establishing your personal brand. And it's important to find a way to do this at your wedding as well.
One simple and classy way to do this is to embrace custom monograms. And they go with just about anything, from dinner napkins all the way to beer koozies.
This easy step helps by branding the new couple's name or initials on everything the guests interact with. And it also means any wedding photos posted online will help build your brand even more.
7. Next Level Invitations
No matter how fancy our modern digital age gets, one thing is destined to stay analog: wedding invitations.
The practice of sending wedding invitations out is literally centuries old. The question, then: how can you make your own invitations stand out?
One way to do this is to purchase an invitation suite. This ensures that things like the menus and signage all match up with your invitations.
For the invitation itself, some 2019 trends include using rose gold, raised foil, and classic colors like silver and gold. Take the time to get it right: these invitations will be the first impression everyone has of your wedding!
Wedding Trends: The Bottom Line
Now you know what the 2019 wedding trends are looking like. But do you know who can help you stay on top of everything else?
Here at Sweet Captcha, we bring you the hottest tips and coolest trends for each and every season. Get ready for the new year by browsing our Lifestyle Section today!