Every savvy businessman and woman, knows that staying ahead of your competition is key to surviving in the cutthroat world of business. Fortunately, the Digital Age has afforded considerable competitive advantages to those who know where to look.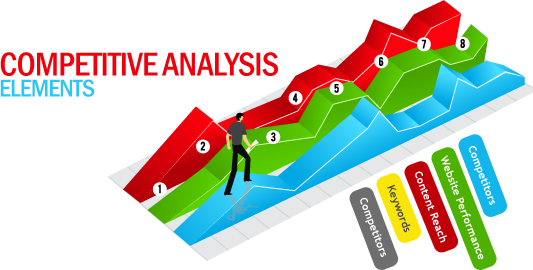 Competitive intelligence and analysis, have enabled businesses to anticipate and respond to trends and market down-turns, while staying one step ahead of their competitors. The internet and online tools such as web scraping, are now the greatest assets for those participating in competitive intelligence and analysis. Read on to explore the latest trends in competitive analysis, and how to utilise the internet to gain a competitive edge.
1. Find Your Competitors
Well-reasoned competitor analysis will structure your whole internet marketing strategy, so it's important to get it right. There are many ways to identify key competitors in your industry, but Google will most likely be your key resource.
Your ultimate goal at this stage should be to cast a wide net and get a comprehensive view of the competitive landscape within your industry and location. When you find your competitors, it is important to categorize them into various levels from direct competitors, to businesses that don't currently compete with you. A simple way is to sort relevant businesses into the following categories:
Primary Competition: These are your direct competitors, who are either targeting the same audience or have a similar product/service.
Secondary Competition: These competitors may offer a different version of the same product, or sell something similar to a different demographic.
Tertiary Competition: This category includes businesses that are tangentially related to yours, including any businesses that may be beneficial to partner with further down the line.
Web Scraping
The internet is undoubtedly the greatest asset and information hub available. Monitoring the online strategies of your competitors, including their products, pricing and overall growth, are key competitive advantages afforded by web scraping.
Advanced web scrapers can be programmed to detect website changes, so you will know immediately when your competitors lower their prices or launch a new product. By gaining actionable insights into any changes in your competitors pricing or products, web scraping services help you stay ahead of the curve and lead the game in your chosen industry.
SEO and Keyword Analysis
In the competitive and web-driven business world that we live in, search engines serve millions of users per day, making them an important tool to attracting customers to your product or service. Finding ways to boost traffic towards your website all revolve around SEO, which is a set of rules utilized by search engines to rank their search results.
Web scraping and other SEO and keyword analysis tools, can improve your SEO by extracting data from competitive websites that have ranked higher in search engine results. An analysis of these sites can give you insight into the links, titles, keywords and descriptions being used by competitors who have dominated the web traffic. These online tools can also automatically review your search engine ranking, providing continuously updated and current data of your position in relation to major competitors.
Social Media Analytics
In the modern Digital Age, you will be hard pressed to find a business that does not utilize social media channels. From Facebook to Instagram, businesses are flocking to social media to display their products, target their key demographics and to provide you with key information to complete your online competitor analysis.
In the context of social media, competitive analysis is all about monitoring your competitors social accounts and activities, and any trends in the social media landscape within your industry. You can create searches to track all mentions of your competitors across the web, staying up to date with their content and news stories. It is a simple way to see which social media strategies have paid off for your competitors, and which to steer well clear of.
~
Getting to know your competitor's strengths and weaknesses is the foundation of remaining competitive within a cut-throat industry. Follow this simple guide to utilise the internet to your advantage, and to stay leaps and bounds ahead of your competition.