If you're looking to settle down as an Filipino expat, the U.S. is the place to be.
Seriously. Did you know that there are millions of both Filipino-Americans and Filipino immigrants currently living in the United States?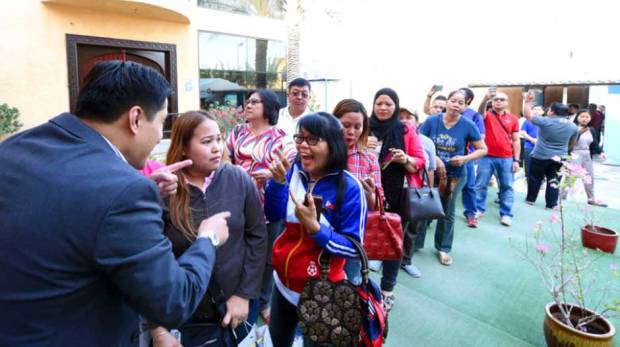 In fact, there are four times as many Filipinos residing in the united states today as there were in 1980.
But what makes the the United States such an enticing place for these immigrants and expats?  Consider the following, for starters:
A strong relationship: despite some rocky moments in history, the Philippines has traditionally been pro-America and on board with the country's interests, especially in regard to the military
Economic opportunities: many migrants are indeed sending money back home to the Philippines for the purpose of supporting their families, with remittance remaining a large chunk of the country's GDP
Ease of immigration: the United States' approval rate for Filipino immigrant applications is high given the existing number of immigrants, making the process of sponsorship and assimilation much easier
 Either in pursuit of the American Dream or just to be among fellow expats, Filipino-Americans represent a rich culture who've spread themselves vastly throughout the United States. Looking at the states and cities with the largest Filipino-American populations, its' rather fascinating to note where and why expats decide to settle down where they do.
 For more details on that note, we've outlined the top seven spots for Filipino-Americans in the country today. Whether you're considering calling the United States home or just want to know where your fellow expats are hanging out, this list has you covered.
California (1.4+ million)
Representing the largest group of Asian demographic in the Golden State, California's status as the main American hub for Filipinos is well-documented. Los Angeles' thriving Filipino community is a shining example of why, boasting dedicated neighborhoods and its own "Historic Filipinotown" to honor immigrant culture. Likewise, California's size helps supply expats with plenty of job opportunities sprinkled throughout the state.
Hawaii (340,000+)
Believe it or not, Filipinos are the largest ethnic group in the entire state of Hawaii. The state promotes hundreds of Filipino specific conferences, festivals and programs year after year. Many Filipino-Americans work in Hawaii's massive hospitality industry, while approximately 95% of home healthcare workers are Filipino.
Illinois (139,000+)
As it should come as no surprise, a bulk of the Filipinos in Illinois reside in the Windy City.
Illinois is home to a variety of Filipino-specific organizations and societies such as the Filipino American Chamber of Commerce of Illinois, the Philippine Engineers and Scientists Organization and the Philippine American Network. Additionally, tons of opportunities for Filipino-American sports lovers are here with a variety of expat-specific baseball and softball leagues.
Texas (137,000+)
Texas as a state is no stranger to immigrant populations, making it an especially interesting spot for Filipino expats to last. Perhaps a bit of a surprise, the largest concentration of Filipino-Americans can be found in Houston. A notoriously diverse foodie city, those who want a taste of some authentic adobo or pinakbet won't have to look far in the Lone Star State.
Washington (137,00+)
Not too far from the likes of California, Washington is likewise a progressive state that's rather accepting of immigrants at large.
As evidenced by events such as the Seattle Mariners' Filipino Heritage Night, Washington certainly acknowledges and appreciates its Filipino neighbors. The Filipino Community of Seattle, in particular, goes the extra mile to support get-togethers among fellow Filipino-Americans, especially for seniors and youth.
New Jersey (126,000+)
On the other side of the country, Jersey City serves as another major hub for expats. Home to the Philippine American Friendship Festival year after year, the city's small but passionate community of Filipino-Americans have become a staple of the Garden State.
New York (126,000+)
Representing another melting pot for immigrants, there are plenty of Filipino-Americans near the Big Apple. Home to a vast number of "Little Manilas" (akin to Chinatown), there are plenty of places for expats to connect here. The Woodside neighborhood in Queens is known for its high Filipino population, including a slew of Filipino-owned restaurants, salons and medical offices.
Additionally, there are tons of educational opportunities for future generations such as Manhattan's Philippine Center to promote native culture. This site is also home of the Philippine Consulate of New York.
The United States' existing population of Filipinos makes it a prime place for expats to settle down. Between accepting communities and seemingly endless economic opportunities, anyone coming from the Philippines should consider themselves thrilled to make any of these states their future home. Many of these people also decided to find a trusted immigration lawyer that will help them improve the quality of their life.